The SeaMATE PufferFish makes ROV building fun, educational, and straight-forward. The PufferFish 2.0 ROV Kit consists of a control system, wires to receive and deliver power, and thrusters (motors, propeller adapters, and propellers). The control system is enclosed in a small, durable box with an O-Ring seal; the clear top makes operating and troubleshooting the ROV easy. In the PufferFish 2.0 ROV Kit the following improvements and upgrades have been made: the toggle switches have been replaced with robust rocker switches (additionally the switches are not soldered directly to the board so they can be removed and replaced easily), the control box is larger and comes with room to add a camera filter and attach a device (such as a camera) requiring auxiliary power to the circuit board, a complete motor/tether strain relief system for the ROV end is now included and lastly an amp/volt meter is mounted to the control box to assist with troubleshooting and help teach basic electronics. Th e kit costs $180 unassembled. If you have another switch box ROV kit with 3 motors and would like to purchase the control box only to upgrade your ROV, the PufferFish 2.0 control box can be ordered separately for $45. View the Kit Parts Photo. PufferFish FAQs
Download PufferFish Assembly Instructions. (new instructions and photos coming soon)
[Please note that the display model is made with colored PVC and includes a camera and scoop. The camera, scoop, and PVC are not included in the kit.]
The control box is pre-drilled for the 3 double-pole, double-throw (DPDT) rocker switches that extend vertically through the clear top. Under the clear top the switches are mounted to a printed circuit board (PCB). In addition to the switches there are:
3 bi-colored LEDs (the color changes with motor direction)
1 LED to indicate power-on
4 resistors to reduce the current to the LEDs
1 amp/volt meter
Two holes are pre-drilled on the bottom of the box – one for power to/from the battery and the other for power to/from the 3 motors. The box comes with two strain relief connectors for the power cables. This control box will work with bilge pump motors or hobby motors that run off of 12 volts DC or less.
The PufferFish control box is an entry level kit suitable for the MATE Competition SCOUT Class. Download a PDF that describes the competition, learning objectives, and 2014 mission overview for the SCOUT Class.
The PufferFish ROV Kit comes with the following parts:
What is not included in the PufferFish ROV Kit:
Frame material: ½" PVC pipe (10-15') and PVC connectors such as Tee's [photo A below] (20+) will need to be purchased from Home Depot or some other plumbing supply store (approximate cost <$10). Colored PVC [photo B] can be ordered from http://www.simplifiedbuilding.com/blog/color-furniture-grade-pvc-fittings-now-available/ (this is a special order and a bit more expensive than white PVC).
Flotation: ½" Pipe insulation [photo C] (Home Depot), water noodles [photo D] (Sporting Goods), or enclosed PVC pipe with end caps (Home Depot) is be needed to establish neutral buoyancy.
Thread Fastner: Loctite [photo E] for the propeller screw is recommended (Home Depot).
12 Volt DC Power Source: Car battery - we recommend deep cycle marine batteries, rechargeable 12-volt battery, or car jump starter [photo F].
If you are using a cigarette lighter receptacle, an adapter for the banana plugs is needed [photo G].
Camera and ROV tools, but these can be added to the ROV.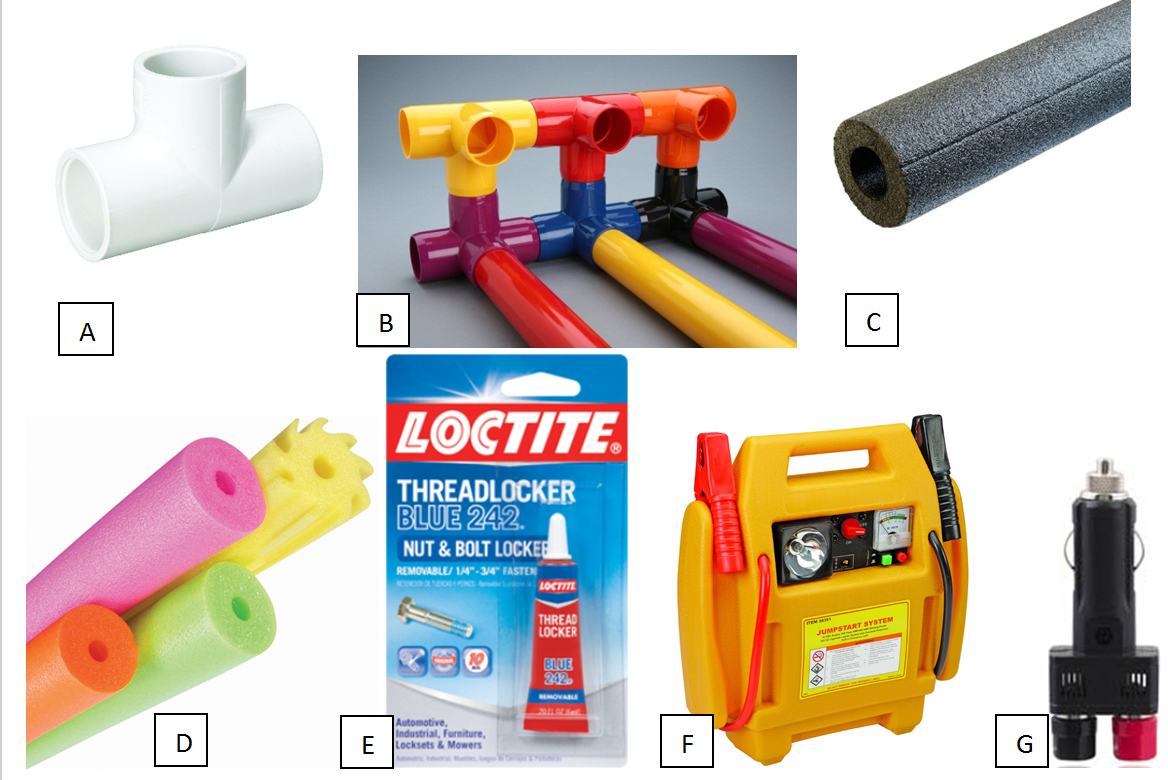 Tools required to assemble the kit:
Safety Glasses (Amazon, Home Depot: $2-8)
Soldering Iron (you generally get what you pay for; read the reviews before you buy). (Amazon, Home Depot: $20-100). This is a good robust soldering station for the money:

Weller WLC100 40-Watt Soldering Station.

Solder (we recommend 60/40 Rosin Core Solder in .032" (0.08mm) diameter)
PVC Cutters (Home Depot: $7-12)
Wire Cutters
Wire Snips
Wire Strippers or Wire Cutter/Stripper combo tool (Home Depot: $10)
Phillips Screwdriver
Heat Gun (to heat shrink wrap) (Amazon, Home Depot: $11-20)
Hot Glue Gun & Glue (to help make wire connections waterproof) ((Amazon, Home Depot: $6-10)
Multimeter (highly recommended) This is a robust multimeter:

Mastech MS8268 Digital AC/DC Auto/Manual Range Digital Multimeter Meter

Ruler and pencil