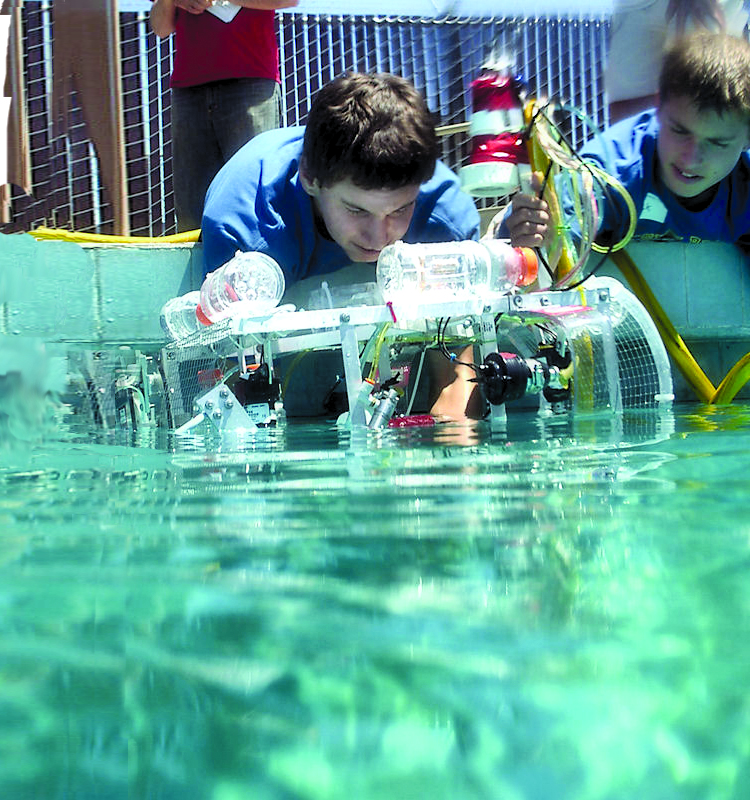 UnderWater Robotics Competitions
2016 MATE International competition
at the NASA Johnson space Center's neutral Buoyancy lab june 23-25
Recording of the OpenROV livestream from the William's Pool - thank you Eric Stackpole and Brian Grau!

RANGER Class Winners AMNO & CO Demonstrate ROV at the White House Science Fair
The 2016 MATE international ROV competition is being held June 23-25 at the NASA Johnson Space Center's Neutral Buoyancy Lab in Houston, Texas, USA.
The 2016 competition manuals have been posted! See Missions, Specs, and Scoring.
A network of 20+ regional contests will feed into the international event. Click here to find the MATE regional event near you!
The MATE Center uses underwater robots – also known as remotely operated vehicles or ROVs – to teach science, technology, engineering, and math (STEM) and prepare students for technical careers. Working in partnership with the Marine Technology Society ROV Committee, MATE created the ROV competition as a way to:
Engage students in STEM and expose them to science and technology careers
Encourage students to develop and apply technical, teamwork, and problem solving skills
Provide funds, materials, and technical expertise to support student learning provide industry with skilled individuals who can fill workforce needs
The MATE competition challenges K-12, community college, and university students from all over the world to design and build ROVs to tackle missions modeled after scenarios from the ocean workplace. The competition's class structure of beginner, intermediate, and advanced complements the education pipeline by providing students with the opportunity to build upon their skills – and the application of those skills – as they engineer increasingly more complex ROVs for increasingly more complex mission tasks.

The MATE competition requires students to think of themselves as "entrepreneurs" and transform their teams into companies that manufacture, market, and sell "products." In addition to engineering their ROVs, the students are required to prepare technical reports, poster displays, and engineering presentations that are delivered to working professionals who serve as competition judges.
Other MATE underwater robotics educational products include:
Underwater Robotics: Science, Design and Fabrication
Knowledge and Skill Guidelines for prospective ROV professionals
Curriculum and videos
Workshops for teachers and students
Internships for college students
All levels of DIY Kits and free open source plans
Microcontrollers for thrusters and sensors
And much more!