ROV Competition
The 'Title 1' style is reserved for special use and therefore does not appear in the editor styles.
Title 3
At Engaged Communication, Liana combines best-in-class strategic counsel, technical proficiency and a cunning sense of what's hot now to ensure campaigns are infused with strength and depth.
Title 4
Liana is sought after by both global brands and innovative start ups to help launch and position their products and executives.
Title 5
Title 6
And below is a form:
NAME
Gender Male Female
City Select
Message
Starring MATE ROV Competition Judge Leah Hebert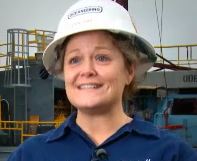 World's first female offshore ROV supervisor