Hear from marine technicians and a MATE intern why they chose marine technology as a career and what their life is like at work:
Tour the research vessel the Hugh R. Sharp and see where marine technicians and interns eat, sleep, and work:
You can also see what life is like on a research vessel by watching two videos created using clips from past MATE interns:
Link to the embedded video Link to the embedded video
For more information on life on a research vessel, check out these videos, blogs, and photos!
Check out life at sea by looking at these photos and videos:
Check out life at sea by reading the blogs for different interns, ships, and technicians:
How do I apply?
Applications for the 2018 internships are now closed. To be placed on the 2019 information email list, please contact the internship coordinator, Nandita Sarkar, at nsarkar@mpc.edu. Thank you!
General information about how to apply for a MATE internship is given below.
Internship Requirements
To apply for an internship, the requirements are:
Students must be:
At least 18 years of age.
A current undergraduate student or very recently graduated from an undergraduate program from a US institution and a citizen of the United States or its possessions; international students are not eligible for this program. An undergraduate student is defined as a student who is enrolled in a degree program (part-time or full-time) leading to a baccalaureate or associate degree. Students who are transferring from one college or university to another and are enrolled at neither institution during the intervening summer may participate under certain circumstances.
Interested in becoming marine technicians on research vessels. MATE is especially looking for students in marine technology, engineering, computer science, or other technical programs at two- year colleges or in their first two years of a baccalaureate degree program.
Able to enroll in a for-credit cooperative work experience course (preferably at Monterey Peninsula College). If the costs for this are a burden to participation, the MATE Center can pay for this up-front and deduct the cost from the internship stipend.
Applicants for the spring six-month internships must be ready to enter the job market with academic studies complete or near complete and looking for a way to enter a career as a marine technician. Demonstrated time at sea is highly desirable for the six-month position, but is not required for the summer at-sea positions.
Students in two-year and certificate marine technology and science programs, MATE partner students, and students and in related marine technology undergraduate programs will be given preference for summer internships only.
The MATE Center encourages a diverse pool of applicants and does not discriminate on the basis of race, color, national origin, ancestry, sex, or age. A long-standing goal of the MATE Center is to increase the diversity of the marine technical workforce: women and minorities are strongly encouraged to apply.
Application process
The application requires all of the following information:

- Your current GPA
- Dates that you are available from/to
- Detailed contact information for three professional and/or academic references
- Information to describe the skills you have in the following areas: time management, working on teams, computer sciences (software, hardware, programming), natural sciences (Chemistry, Biology, Geology, Oceanography), lab and fieldwork (safety and sampling), skills (GIS, electronics, construction, industrial), certifications (Diving, Ham, Pilot, HAZWOPER), maritime (safety, seamanship), and other hobbies.
PLEASE NOTE: it is NOT required that you have experience in all these areas! The MATE Center takes your skills and tries to best match them to available internships.
Supporting documents that are required to submit the online application form must be in .doc, .docx, .pdf, .jpg, or .txt format. These documents are:
A cover letter describing your ideal internship, career goals, why you would like to become a marine technician and skills / academic background (Click here for a cover letter guide) and addressed to Nandita Sarkar, MATE Internship Coordinator, Monterey Peninsula College, 980 Fremont St., Monterey CA 93940.

A current resume (Click here for functional resume, chronological resume, action verbs)

An unofficial transcript

Letter(s) of recommendation from an instructor, academic advisor, or employer. NOTE: Ideally, we prefer a letter from an instructor and one from an employer who can speak to your work ethic. The recommendation letter, addressed to Nandita Sarkar, MATE Internship Coordinator, can either to emailed directly to nsarkar@mpc.edu or uploaded using an online form (preferred).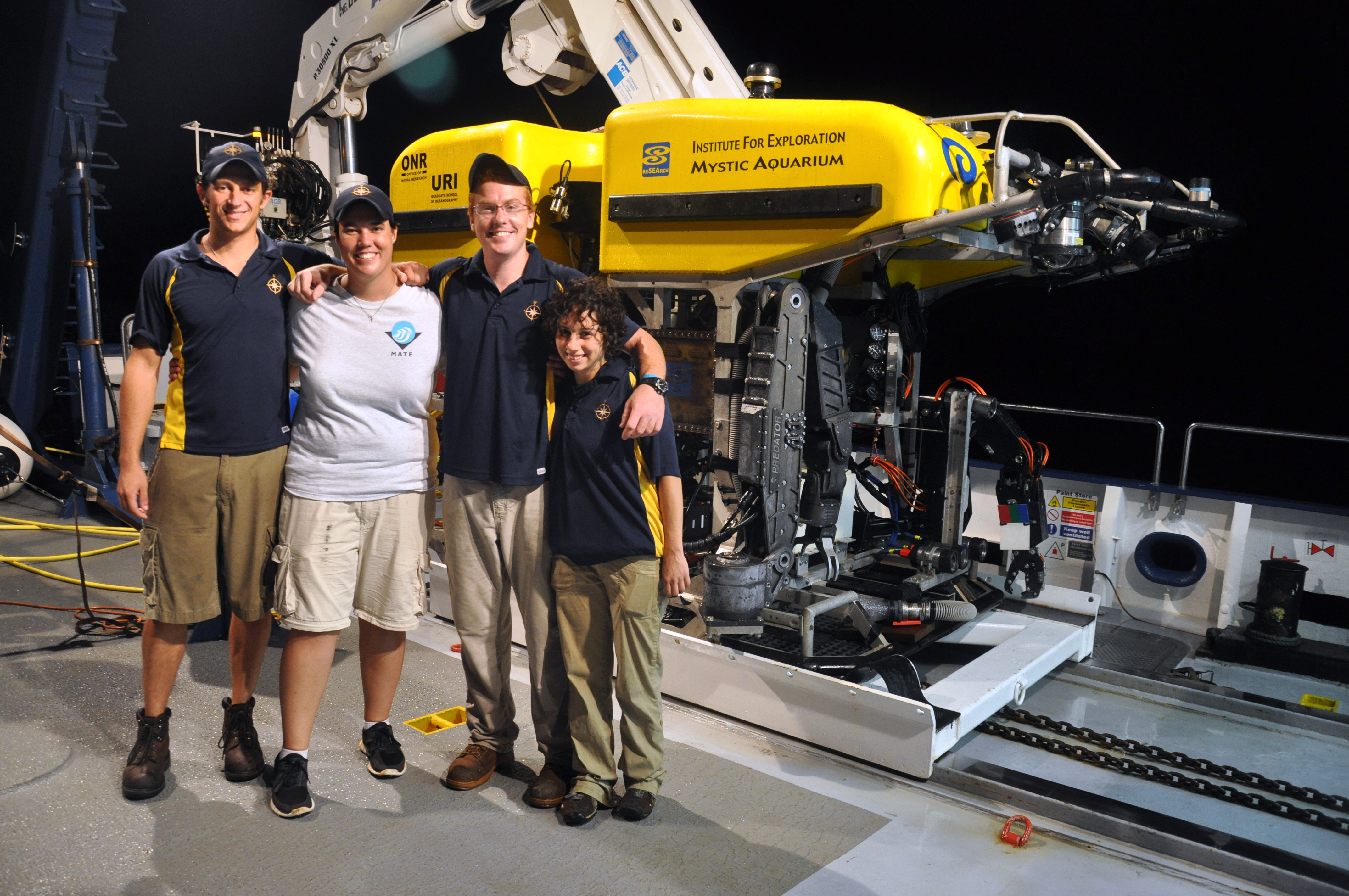 Three MATE Internship Alumni (Gregg Diffendale 2008, current Hercules ROV Pilot, Alex Kavanaugh, 2011, current Argus ROV Pilot, Rachel Gaines, 2011, current Argus ROV Pilot) and 2012 intern Tara Willis on the E/V Nautilus
Where do past MATE interns work now?
Click here to see a list of the MATE Internship Program alumni (till 2012) or here for alumni 2014-2017 who participated in UNOLS, USCG, SOI or Ocean Drilling Program research cruises and where they are now.
What if I am not interested in an at-sea internship or what if I am not accepted this year?
Students are welcome to apply in multiple years. In addition, the MATE Center maintains an extensive list of marine technical internships. Please click here to learn about other internships in this area that may interest you.
To see a list of the Knowledge and Skills Interns typically learn click here.
Funding for this REU site is provide by the National Science Foundation's Division of Ocean Science's located in Arlington, VA. The NSF contact for this program is Lisa Rom, [email protected] or 703-292-7709. NSF does not handle REU applications; please contact each REU site directly for application information.