Becoming an Intern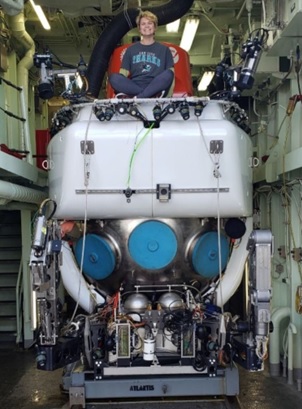 Hear from other marine technicians and a MATE intern why they chose marine technology as a career and what their life is like at work:
Tour the research vessel the Hugh R. Sharp and see where marine technicians and interns eat, sleep, and work: [Please note that Tami is no longer the internship coordinator, please do not contact her - but the rest of the videos have good information]
You can also see what life is like on a research vessel by watching two videos created using clips from past MATE interns:
To receive internship announcements, please fill out the internship contact form.
General information about how to apply for a MATE internship is given below.
To see a list of the Knowledge and Skills Interns typically learn click here.
Internship Requirements
Applicants must be at least 18 years of age and be U.S. citizens or legal permanent residents.
A valid U.S. passport is required for internships that require international travel.
Applicants must be enrolled in or graduated from an accredited higher education institution in the U.S.
Applicants should be interested in the field of Marine Technology in support of oceanographic research.
Previous time at sea is not required, but highly desirable. Being on a multi-week research cruise is not a good time to learn you are not able to work due to motion sickness.
Applicants must provide proof of COVID-19 vaccination and be tested for COVID-19 before boarding the ship.
Required references and supporting documents (in PDF or Word format only):
Contact information for three (3) professional references.
A cover letter describing why you are interested in Marine Technology, and why you believe you're an ideal candidate for the internship program. Letters can be addressed to Maria Osiadacz, Program Manager.
Your most current professional resume.
A copy of your unofficial transcript(s).
A letter of recommendation from an instructor or a supervisor, preferably someone who has knowledge of your technical skills. If your professional reference prefers to submit a letter directly to the Program Manager, please share this link with them: 2023 UNOLS-MATE Internship Recommendation Form
Sample Interview Questions:
Tell us about yourself – coursework, work experiences, skills – that you feel make you a good fit for the MATE Internship Program.
What can you tell us about your ship board experiences - what kind of, size ships you've been on or worked on, cruises you've taken, how long, what type of crew?
What is your approach to contributing to safety while working on deck?
Describe in detail any experience you have working with oceanographic gear/instrumentation, or other related tools and equipment.
What is your approach to contributing to safety while working on deck?
How do you effectively communicate with people from diverse backgrounds that don't share your perspectives or experiences, and have different styles of communication?
Tell us about a time when you had to deal with a challenge in school/work and how you overcame or dealt with it; what you learned from that experience?
Tell us about one of your most rewarding experiences in the field of marine engineering or technology or other related field?
Tell us about a time when you had to troubleshoot a problem and how you handled it, working alone or with others?
How will this internship fit into you future career plan(s)?
How do you deal with extensive periods being away from home/at-sea?
Do you have any questions for us?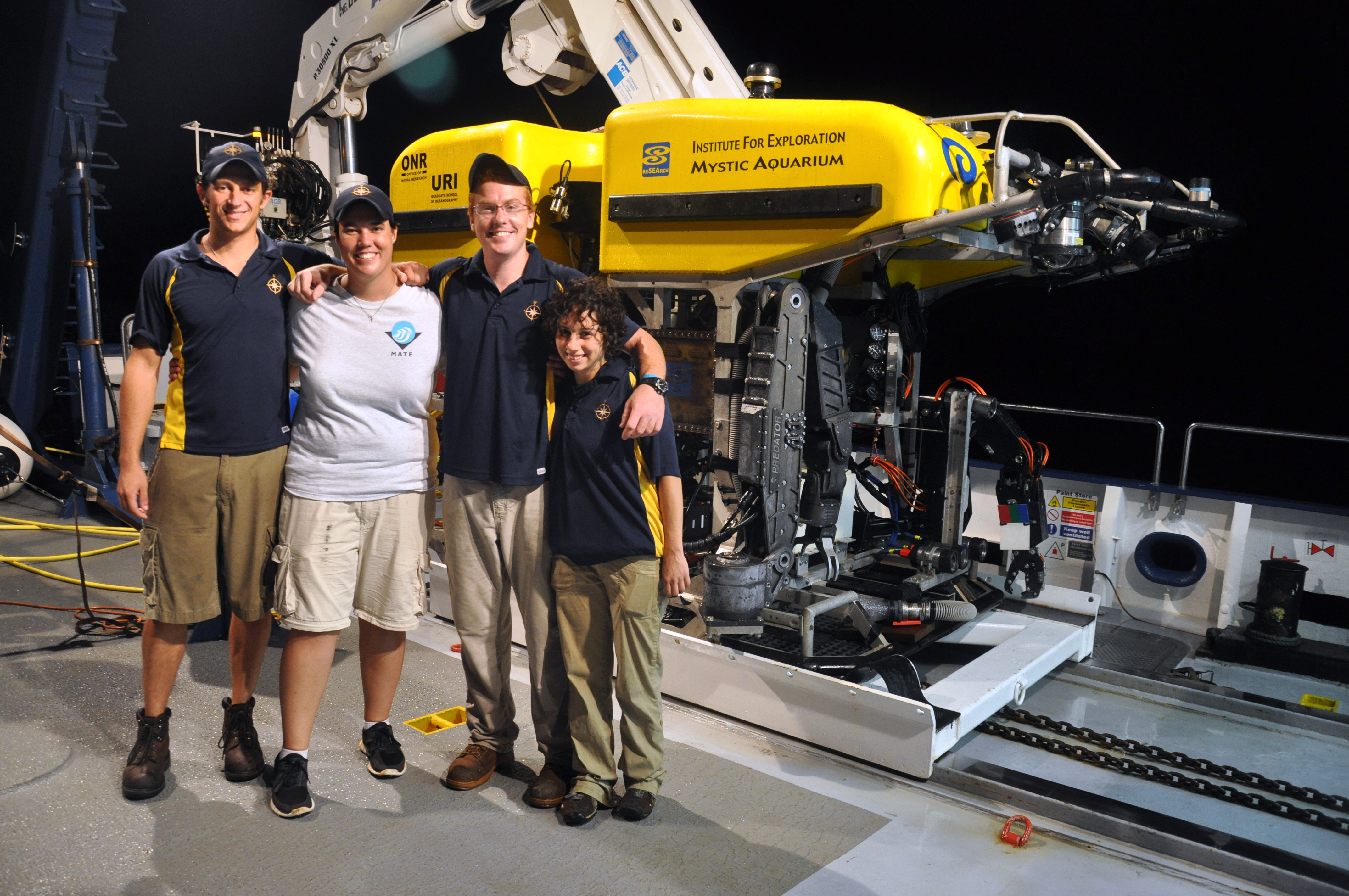 Three MATE Internship Alumni (Gregg Diffendale 2008, current Hercules ROV Pilot, Alex Kavanaugh, 2011, current Argus ROV Pilot, Rachel Gaines, 2011, current Argus ROV Pilot) and 2012 intern Tara Willis on the E/V Nautilus
For more information on life on a research vessel, check out these videos, blogs, and photos!
What if I am not interested in an at-sea internship or what if I am not accepted this year?
Students are welcome to apply in multiple years. In addition, the MATE Center maintains an extensive list of marine technical internships. Please click here to learn about other internships in this area that may interest you.
To see a list of the Knowledge and Skills Interns typically learn click here.
Funding for this REU site is provide by the National Science Foundation's Division of Ocean Science's located in Arlington, VA.